Fegen/Backa Loge, STF Hostel
Address

: Övre Backa, 512 61 Kalv
show map
Location: Falkenberg
Youth hostels | A beautiful location in the Fegen nature conservation area.
From Backa Loge Looking over meadows, beach and lake Fegen with its rich fish and
birdlife. Ospreys nest can be seen from the café terrace, while enjoying coffee and waffle. Or why not pull up the perch from the jetty or boat? Broil it in the grill room, while the loon crys out of the lake.

In these regions continued border conflicts between Sweden and Denmark, and nearby is a
place called "war cavity." Here you can be guided with a journey from Ice Age to the Present. " The border fighting resulted to no border between Sweden and Denmark, rather between Västergötland, Halland and Smaland, a mile from Backa Loge.

After all the impressions of nature and culture, you can then relax in the hostel's cozy
environment and sleep in our comfortable beds.

At Backa Loge, you can come to find yourself and unwind, by staying in the
quiet, beautiful natural environment. Rent a rowboat or canoe for recreation or fishing. Take a walk along the beach meadows and mixed forest, or relax on the beach or jetty. Anyone who
are hungry can visit our cafe with a terrace facing the lake.

Do you think the mattress is hard, but kayaking, biking and hiking are good? Book your stay at the hostel and have it as a starting point. From here you can also get you a great
lunch basket on the tour.



We want personal contact in order to give you information prior to your arrival!
Call +4670 2706260
Facilities and services
General facilities

Number of floors: 2

7 room(s)
Policies
Check in (earliest)

Check out (latest)
Compare "Fegen/Backa Loge, STF Hostel" with similar alternatives
In Ätran You will find seven cottages (self-catering accommodation) in an extremely picturesque environment. Eight beds in each cottage. Enjoy a peaceful stay or join in on the activities. Conference and meeting facilities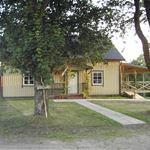 On our little farm situated by the edge of the spruce forest, with meadows and fields, our cows and horses graze as nature intended. The B&B is in the farm's oldest building. 8 beds divided in 4 rooms. The price includes: bed linen, towels, and a breakfast buffet with fresh homebaked bread.
An environment for well-being. The hostel makes you feel as if you are staying in your grandmother's cottage. At STF Hostel Bråtadal/Svartrå, you are met by the aroma of newly-baked bread.