Ätrans Turist
Address

: Eseredsvägen 3, 31151 Ätran
show map
Location: Falkenberg
Cabins | In Ätran You will find seven cottages (self-catering accommodation) in an extremely picturesque environment. Eight beds in each cottage.
Enjoy a peaceful stay or join in on the activities.
Conference and meeting facilities
This is one of the most complete facilities located in Halland. We have 56 beds in seven independent cottages. Sports with international dimensions, heated outdoor swimmingpool, adventure course, jogging tracks of different lengths for walking, running and skiing. There is also a lake with precious fishing and with direct access to the facility and barbecue sites, canoe rentals, row boats, etc.

Ätrans Turist is located only 15 km from Gekås Ullared, a big discount store.
Facilities and services
General facilities

Outdoor pool

Conference rooms

Internet

Leisure facilities
Compare "Ätrans Turist" with similar alternatives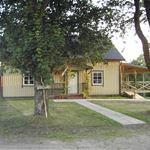 On our little farm situated by the edge of the spruce forest, with meadows and fields, our cows and horses graze as nature intended. The B&B is in the farm's oldest building. 8 beds divided in 4 rooms. The price includes: bed linen, towels, and a breakfast buffet with fresh homebaked bread.
An environment for well-being. The hostel makes you feel as if you are staying in your grandmother's cottage. At STF Hostel Bråtadal/Svartrå, you are met by the aroma of newly-baked bread.